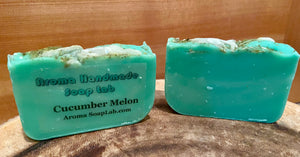 Cucumber Melon Olive Oil Soap
This one will get you ready for summer!  Rain drenched cucumber, ripe honeydew and juicy cantaloupe with fresh lemon and lime. It is fresh and clean and is topped with lime leaves! If you love cucumber you are going to like this one!
Handmade from start to finish, my cold pour Artistsan soaps are a combination of high Quality vegetable oils, botanicals, Clays and natural exfoliants. Formulated to soften and soothe skin then wash always cleanly leaving no residue.
Each bar is hand cut & weighs approx 5-6 oz, 
No two bars or batches are exactly the same & colors & design may vary but they will always contain a variation of the ingredients listed below.
Feature ingredients : Coconut Oil, Canola Oil, Sustainable Palm oil, Olive oil, Castor oil, Jojoba oil, Shea Butter, Natural Clays & Mineral Micas for color, Lye, Essential oils, Botanicals & High Quality Phalate free Fragrance oils.
Biodegradable : Great for Camping & Lake bathing!
No animal testing
No parabens 
No mineral oil
No Sodium Laurel Sulphate 
No phosphates
Vegan
Handmade cold pour soap is rich in natural skin loving glycerin.
Commercial bars found in stores are cannot be legally labeled as soap because they are NOT soap.
You will find them called Beauty bars or Bath bars , They have been stripped of the natural Glycerin by the manufacturers to be used sold & used elsewhere as this generates more revenue.
---
We Also Recommend
---